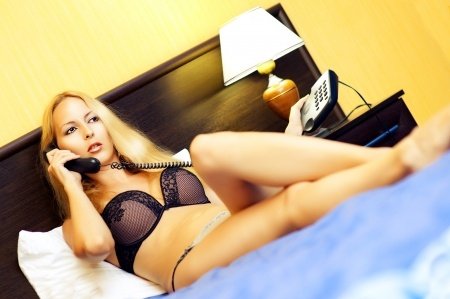 When you're talking on a Chat121 talk line, phone sex is always an option if that's something you're looking for. Some people feel a little shy when it comes to dirty talk on the phone, but there's nothing to fear if you follow these phone sex tips!
1. Don't Rush. Phone sex is just like regular sex in many ways. When you rush, it might not be the best. Take your time with the build up to an orgasmic experience and you might find the sexual tension growing. Start off quietly with a whisper and build it up to a loud and raucous event. Make sure to set aside 45 minutes to an hour for a sexy phone time!
2. Set the mood the right way. Even though you'll be at home by yourself for this, make sure to set the mood. Turn down the lights in whatever room you're in, put on whatever makes you feel sexy and get comfortable. If you have a favorite toy then you'll probably want to have it close by for sexy fun.
3. How to get started. Sometimes getting a phone sex session started can be a little awkward, but there are some prompts that make it a bit easier. You can start off with something like:
– "I've always wondered what it would be like to do…"
– "What would you want to do if you were here with me now?"
– "What article of clothing do you want to remove first?"
4. It's all in the voice. Phone sex is all about your voice and expression. Make your voice sound sexy. Breathless and panting is always a good sound when things are hot and heavy, and good explanations are usually helpful when describing your fantasies over the phone. Remember, your phone sex partner isn't there with you, but they can easily feel like the are!