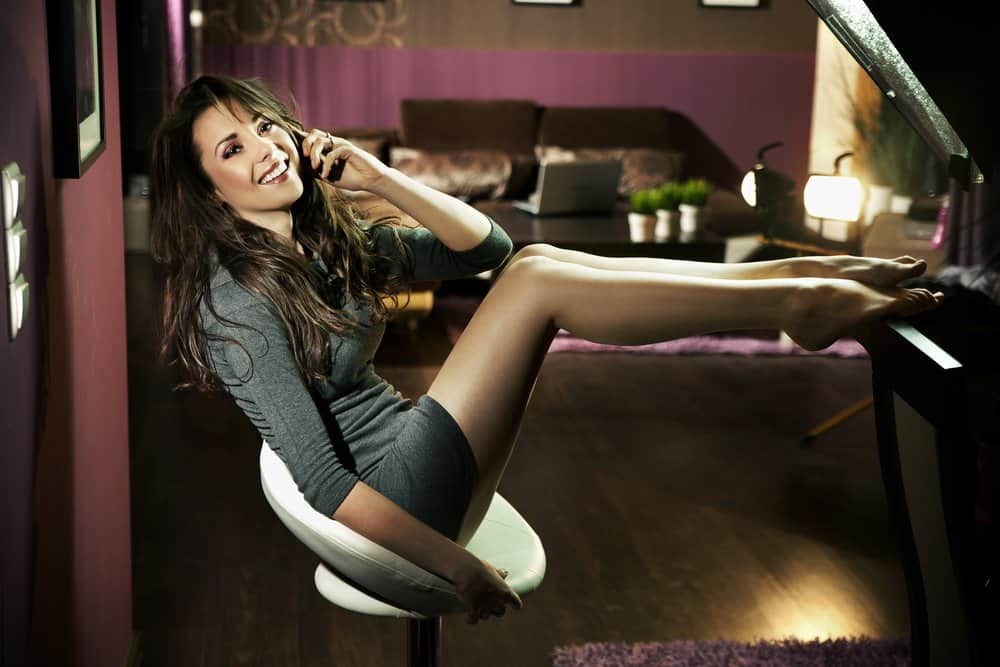 Phone sex is most often a two-way conversation, with anticipation building, turn-ons being explored, roleplay being experienced, and more. People sometimes, however, get a little bit more caught up in what they are saying. The excitement of sex, mixed with multitasking through masturbation, can make reminders and awareness an important part of things. Getting the ideal phone sex experience, however, involves awareness on a few different levels. First, being aware of the other person and their turn-ons. In a pre-chat session, talk with the other person about their turn-ons, things they would like to experience in the chat, and banter around a little bit and get to know them if you'd like. In addition, anticipation is an essential part of XXX chat conversations of all types. Talk soft, add pauses, let your natural sounds come forward, and enjoy your time together. In some cases, while getting closer to orgasm, people get a little bit louder, talk a little bit more quickly, and are even more expressive of what they are feeling and how close they are getting to orgasm. One of the most essential parts of successful phone sex, in many cases, however, is the back-and-forth that people enjoy.
Why Back And Forth Is Important
People love being paid attention to, and phone sex validates both the feelings of people have about their sexual fantasies and the casual companionship they can get over the phone. People on Talk121 are looking for a wide variety of things. The first is XXX pleasure, people love the anticipation, and they love getting off hard. Pick out some sex toys, choose a roleplay, grab some lube, and use whatever places you have at your disposal to have some phone sex fun. Communicating with the other person is a big part of the picture, so doing a pre-chat session is an excellent choice. This gives you the opportunity to talk about what you are looking for and hear about what the other person is looking for as well. With phone sex, being aware of these things is essential, and it allows for more smooth back-and-forth conversation to happen. Another thing to chat about is boundaries and limits, which also have an impact on how back-and-forth conversations over the phone pan out. Phone sex is the ideal way to fulfill your fantasies, with there being no limits to the pleasure your imagination and the imagination of others can bring.
How Limits And Boundaries Play Into Phone Sex
Part of the back-and-forth conversation people have with phone sex is being aware of the limits and boundaries other people have. Some people, for example, are not interested in the use of words such as slut and other similar words that can be considered derogatory. Some people prefer not to use these types of words in phone sex or otherwise, while others love them. There are other words that may be off-limits, as well as some themes. The back-and-forth, as well as the direction the XXX chat conversations you are having go in, are affected by these things. If someone is looking for a more erotic experience, and is against rougher sex, for example, do not try to move the conversation in that direction. Take your time to find excellent matches; there are thousands of fantastic phone sex partners here to explore with. Using the voice introduction, finding fantastic matches is a breeze. In yours, be clear about what you are looking for, particularly if you are looking for specific fantasies or fetishes to be fulfilled.
How To Improve Back And Forth Phone Sex
Using these tips, enhance your phone sex fun. Being aware of what is happening in a conversation, talking things out a little bit in advance, and using specific types of mannerisms in your chats can play a positive role in bringing your phone sex to another level. Whether you are looking for strangers to have phone sex fun with, are looking to practice for calls with your partner, or are excited to get in and get off fast, Talk121 has an excellent collection of the most beautiful personalities. The diversity here is fantastic, with many different body types, sexual desires, ethnicities, and more. Improving the back-and-forth during sex over the phone starts with adding pauses that are long enough that the other person wants to join in on the conversation and feels comfortable doing so. Rather than pausing and starting a new sentence up straight after every time, pick a few points in the conversation where the other person might be interested in saying something as well, and add a pause. This allows them to join in, building from one point to the next.
Some People Use Prompts
Prompts are another way to get another person involved and can be fantastic if the person is shy. If you find that you are a more shy person in general, you could also have a conversation with the person you're chatting with about using prompts as well. Having this communication in advance can set up for the conversation. In many cases, prompts are in the form of questions. For example, one person can start the conversation and build into sliding the other person's panties down. After the panties are slid down, asking what they do next is an option. Another way people can use prompts is to talk about their feelings in a particular situation, adding wonder. "I slowly slide my dick inside of you, anticipating what you are going to do next." There is no question or pressure in the sentence, though it creates an excellent opportunity for the other person to start in with what they are thinking or what they will do next in the roleplay. XXX fun is better with back-and-forth, which also allows people to enjoy adding parts of their fantasies in with parts of other people's fantasies. Phone sex allows for fantastic creativity; imagination is a wonderful thing. Explore it.