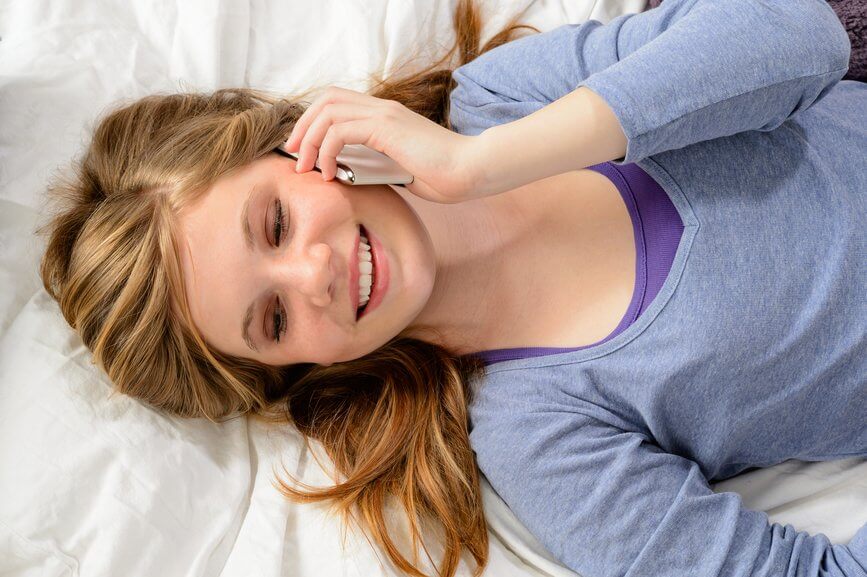 Talking to a stranger on the phone for the first time can be awkward, especially if you're not used to it. Sometimes breaking the ice with the new person can seem daunting and may even deter you from making the call to begin with. The thought of masturbating to a stranger's voice may seem nearly impossible, at first! If you've ever found yourself in this situation, we're here to help you learn how to break the ice and strike up that first conversation, while also trying to make that connection in the beginning! It's easier than you might think, and the sexy phone time that follows will be worth it!
Always start your call off by introducing yourself! Tell your partner what name you prefer to be called, what pronouns you use if they are different than your birth pronouns, and what you look like! Include details like your height, your hair and eye color, what you're wearing, and a few of the things you enjoy doing in your free time. The best thing about chatting on the phone instead of face to face is that you get to be and look like whoever you want! Do you look like a movie star or an athlete? Or maybe even a combination of your favorite famous personalities! Tell your partner who you are so that talking will come more easily and naturally in the beginning!
When you're getting to know each other, ask open ended questions. Try to avoid questions that only require a one-to-two-word response. This will give your partner more to work with, so you aren't left with empty or awkward silence between subjects. By giving them more broad questions to answer, you're also more likely to find mutual interests and hobbies quickly!
Ask them about themselves. For example, their favorite foods, places, positions, etc. People generally enjoy talking about themselves, since that's what they know the most information about! If you get them talking about themselves, you get to know them better, and you have the added benefit of not having to say as much in the beginning!
Find common ground or interests. Ask about favorite games, movies, or books and chat about any similar interests as they come up. There are endless possibilities when it comes to topics, so have a couple ideas in mind before your call, if you're nervous. It's easier to talk about things you're both interested in, and it will make you excited to talk to them again next time!
Ask hypothetical questions to get to know their interests on a personal level. Some examples would be: If you had one credit left on the jukebox, what song would you play? If you were alone in a cabin with me for a weekend, what would you want to do? What's your ideal breakfast spread? These questions will help you set the perfect scene for your more intimate moments and help you ramp up the sexiness level of the whole conversation.
Set the scene for your date. Ask them to describe what they're wearing, and the room they're in, then use their surroundings in a little role play! If you have trouble imagining where they are, then describe where you are or where you want your sensual session to take place! You can even use some of the answers and places from your conversation to help set the scene in your mind. Include descriptive details like lighting, smells, and vivid colors so that it feels more real in your partner's mind. Remember that a house in the woods sounds sexier when it's described as a secluded cabin in a pine forest overlooking a lake. Get into it and enjoy yourself!
If all else fails, don't force the conversation. If you have nothing in common and the conversation isn't flowing, then know when to call it done and move on. Not everyone clicks, and that's okay! There are hundreds of other people that you may have more in common with, and they might be waiting to chat with you, too!
At talk121, we are ready for any topics you want to chat about! We are happy to get you through the awkwardness of the first call, and we don't judge you if you're a little shy! We can't wait to meet you and have fun chatting about your favorite things with you!