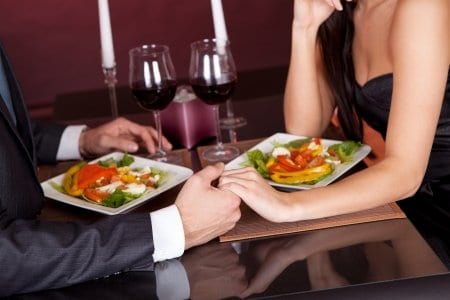 Dinner dates are probably the most common kind of date out there. They are convenient because restaurants are usually places where you can get to know someone. They are quieter, so you can have a conversation, and it gives you a good reason to sit down and talk to someone for an hour or two. Even though you have chatted with your date on a Talk121 chat line, you probably want to talk to them even more on your first date! Some people have trouble deciding what to order on a dinner date. Here are some good tips for what food to consume.
Keep it clean. Don't order a messy plate of food like something with a red sauce, a cheesesteak that's going to drip all over or pasta that is stringy and hard to cut. Instead, order food that will be easy to eat without making a mess. Remember…put your napkin on your lap or in your shirt if you know yourself to be a beast!
Ladies need to eat too. Some women are under the impression that guys don't want to see them eat real food, so they eat before they go out on a date and then order a little salad or something. This is pretty much a myth that is not true. Guys want to see their lady friends eating normal food just like them, so ladies, get that burger you have been really wanting!
Steer clear of the stank. Garlic and onions are two foods that can make your breath really bad so if you want any chance of going in for the kiss at the end of the night, make nice smelling food choices to please your date. It's the least you can do in preparation for a great ending to a fun dinner date.