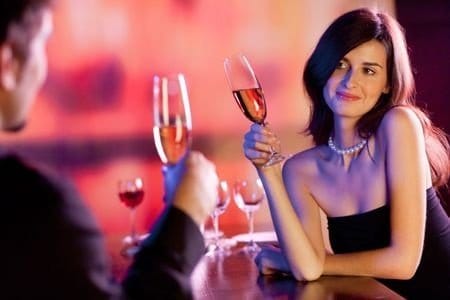 Believe it or not, the drink that you order while dating says a lot about you. If you want to make the right impression then you should pick your drink according to the impression that you want to give off. When you've met someone on a Talk121 chat line, you probably have told them about yourself before you even meet up for a date. Make sure you give off the right impression by picking a good beverage.
Red wine is a beverage that is all about seduction. There are many flavor tones in it that feel rich and decadent and could even be considered sexual. However, unless you're at a fancy wine bar, perhaps the wine swirling and slurping can be skipped – unless you're a sommelier of course.
Martinis let someone know that you're a big drinker. Martinis are straight up liquor and no one really drinks them unless they want to get a buzz on and fast. If you order a martini, consider just having one or maybe save it for when you know someone better.
Guys love girls who can order beer and take it down. They put up with the ones who order chick drinks, but what they really want is a babe who can throw a few back like the rest of them. However, sometimes people who are too into craft beers can be a little intense when they spout all of the facts about each beer. Remember – not everyone shares your hobby. However, it's possible to find other craft beer enthusiasts on a Talk121 chat line, and then you can chat about stats all day!
However, in reality, it's more important to just be yourself on a first date so you may as well just order whatever drink you really want.