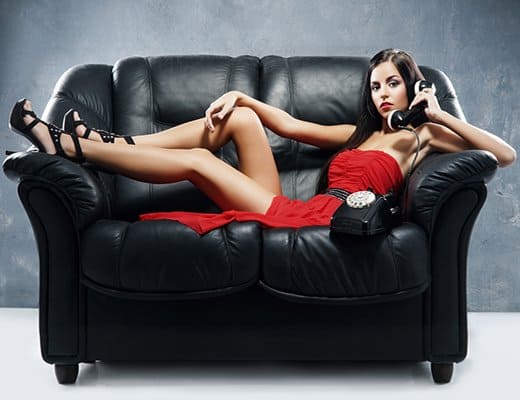 In the early 2000s, scientists discovered a 28,000-year-old dildo which is believed to be the oldest sex toy ever discovered. Now, we could make a few "your mom" jokes, here, but instead, we'll just point out that self-pleasure tools have come a long way since then. In the 1700s, doctors created the first vibrator, then with the discovery of electricity, later, things got a little "out of hand" as it were.
In the past 28,000 years, humans haven't changed, however, in their desire for self-satisfaction and pleasure. With all of our technological advances, we have found new ways to provide that pleasure, and sex toys are not limited to stone dildos and steam-powered thrusters. We also have the ability to help each other out through means such as sexting, phone sex, and web cams, while simultaneously fulfilling that base need for orgasmic release. So why not use the tools available to help yourself achieve the height of ecstasy?
Today, the latest in long-distance pleasure can be controlled with the tap of your thumb, and you can give that control over to a partner without even knowing where they are in the world. Smart sex toys allow you to share your pleasure and capitalize on the spontaneous while getting rid of the mundane task of rubbing one out alone and in silence. With all this being said, the latest and greatest toys are easy to find, and even easier to use!
Here are some recommendations to get you started:
We-Vibe Sync
This sex toy is made to stimulate both partners at the same time. The silicone is patented to keep the inserted portion inside the body, so it stays secure through every orgasmic muscle squeeze, and the toy is app controlled with the free we-connect app. It is waterproof and rechargeable and is very discreet so it can be worn under clothes, and you never have to worry about finding batteries. The we-vibe is also compact enough to use with other manual toys, so you get added stimulation or a little double penetration whenever you want.
Lovense Max 2
The toy made for him, the Lovense Max 2 is a male masturbator. With adjustable suctions, you can control the pleasure, or hand over the control to your partner. It is app controlled with the Lovense Remote app, and it can sync with Lovense Nora or another Max 2 for mutual pleasure, even across long distances.
Hush Bluetooth Butt Plug
Another app-controlled toy, this butt plug can sync with music, so the vibration goes along with the beat. Since anal toys are not a one-size-fits-all type of toy, it is available in multiple sizes, from one inch to 2.25 inches wide, so you get as much anal filling as you want.
Vibease Smart Lipstick Vibrator
With the most discreet option possible, this vibrator looks like an unassuming lipstick tube, complete to a glass cover. This is seemingly made for anonymous phone sex and includes in-app calling and texting, so you don't have to give out your phone number. With body-safe silicone and two hours of play time with every recharge, you can chat anywhere, anytime, or you can sync it with your favorite audiobook, so you are completely immersed in the erotic romance of your favorite characters. The vibrator also links to Spotify to vibrate in time to music when you aren't giving over control to your phone partner through the Vibease app.
With so many options on the market, why would you stick with stone-age methods, rather than feeling like you're having in-person sex over the phone?