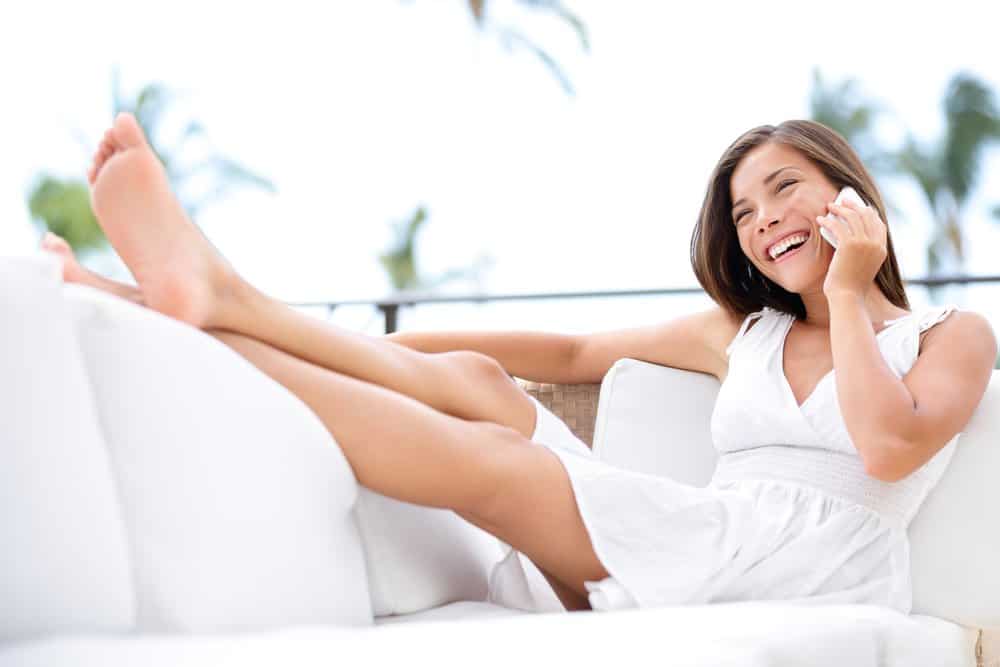 What is a staycation?
Staycations have become increasingly popular. One way to have an amazing staycation is to engage in phone sex. You can have as much phone sex as you want from the comfort of your home at any hour of the day or night. Plus, there are hundreds of singles that are eager to talk dirty with someone like you.
Staycations are a time to recharge, relax, and have some fun so what better than to explore your fantasies and sexual desires with hot strangers on the dirty talk chat line?
What is phone sex?
Phone sex is the art of chatting about sex on the phone. It's an opportunity to learn what turns you on and discuss fantasies, and other sexual ideas with others. Phone sex calls for creative sexual play and you can do speak up about whatever turns you on.
Phone sex may show up as different things for different people. Some may enjoy speaking about their kinks and fetishes. Others may enjoy remaining in the moment and talking about what they are doing with their hands and what they would potentially do to you if you were in the same space. You also have the option to co-create something new with a phone friend like a hot role-playing scenario or fantasy.
No matter what you want to say or how you want to explore pleasure, phone sex offers a safe and fun way to increase intimacy, cum hard, and enjoy lighthearted chats with new people.
How to engage in dirty talk with horny strangers
Engaging in dirty talk and your sexual tendencies and interests may seem daunting especially if you're new to the world of Talk121. Luckily the phone sex community is filled with people who are friendly, horny, and open-minded.
Once you engage in hot phone sex at least one time, you'll get the hand of it, and it happens to be a very, intuitive not to mention, fun. You can talk about what turns you on, get creative and pipe in about your sexual fantasies, ask phone friends open-ended questions to learn more about their desires, experience a hot role-play scenario or fantasy and explore all your sexual desires.
Express your favorite sexual positions, ideas, and desires. You also have the option to create something with one another that's unique to you and your phone friend. Learn about other fetishes and kinks and explore yours through dirty sex conversations.
Try some sexual fantasy sharing
Many people experience sexual fantasies. They can be anything that you imagine being an ideal sexual situation for you. Listening to others share their sexual fantasies can be extremely erotic.
You can also chime in and touch yourself while talking dirty and being flirty with strangers on the phone. Express yourself and hear others do the same and learn more about what makes you aroused.
Phone sex is always a safe sex option and allows you to get to understand yourself. There are no wrong ways to explore your sexuality. Go ahead and try whatever feels right in the moment with other horny singles.
Use your imagination to come up with mutually shared fantasies and desires. Ask questions, be curious, and reveal things about your sexual interests too.
Ask open-ended questions to learn more about phone friends
One way to get the dirty sex conversation rolling is to ask your phone friends open-ended questions.
This provides an opportunity to learn more about your phone pals. Plus, within a few moments of your call you will likely understand if you want to pursue the connection or not. It's not a big deal if someone isn't right for you on the phone chat platform because there will always be someone else to replace that person.
The phone chat platform welcomes self-expression and learning from one another within the community. Asking the right questions will also make it easier to stay engaged in the conversation.
Experience new ways to sexually connect
Sometimes phone sex can be better than in person experiences. If you like to masturbate, you're going to love masturbating with others over the phone. It's a great way to explore all your fantasies and hear others do the same. You can talk about your favorite past sexual experiences, co-create something new with a phone friend, try a role-playing scenario or two, or anything else that makes you feel good.
Most of the people you'll interact with on the free chatlines will be friendly, horny, and easy to talk with. The phone chat platform is whatever you and your phone friends make it to be. Feel free to express yourself and cum with hot singles 24/7. Meet people worldwide and learn something new about yourself and others while cumming hard.
24/7 availability
Another great thing about joining the dynamic adult phone sex community on Talk121 is that the chatlines never close. You can speak to new people 24 hours a day and every day of the week and engage in anonymous phone sex.
Even if you bring up the same kinds of sexual interests on various calls, you'll experience something new every time you get on a call. You never know what's to happen on the free chatlines and that's a part of the fun!
Whether you want to speak with multiple sexy strangers or just call when you can, you don't have to worry about time zone. Chat with people worldwide whenever best for you.