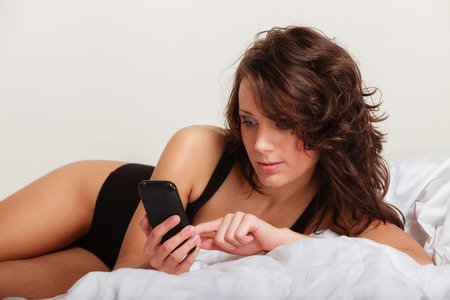 When you have met the perfect hook up buddy from a local Talk121 talk line, you should watch out for a sure sign of someone seeking a commitment – according to one study. Rob Weisskirch, of California State University, Monterey, has done some research, which suggests that sexting is actually something that people do when they are in a more committed relationship. If you're doing it with your hook up all the time, it could mean that they are into you more than just friends with benefits. Rob's research suggests that people might use sexting as a way to curb arguments within relationships, so if you've been feeling anxious about your hook up buddy, then your sexy texting may just be a coping mechanism.
It's funny because most people would associate sexting with hook ups, not relationships. The study found that the more worried a person was about what their sexual partner thought of them – and their sexual performance, the more they used this sexy tool as a way to check in and get validation. Rob assures readers that sexting isn't bad at all – but too much sexting, especially sexting with naughty photos, might be a sign that there is too much anxiety in the relationship.
Do you like to sext? It seems like everyone does, and it's not a problem according to Mr. Weisskirch, but it could be a sign that you are more committed to a sexy relationship than you think you are. If you find yourself realizing this, it's best to talk to your hook up about it and get both of you on the same page. You never know what could develop from such a release of information. If you don't have anyone to sext with right now, then try Talk121's chat lines. You can meet someone locally and chat with them on the phone before meeting them for a date.