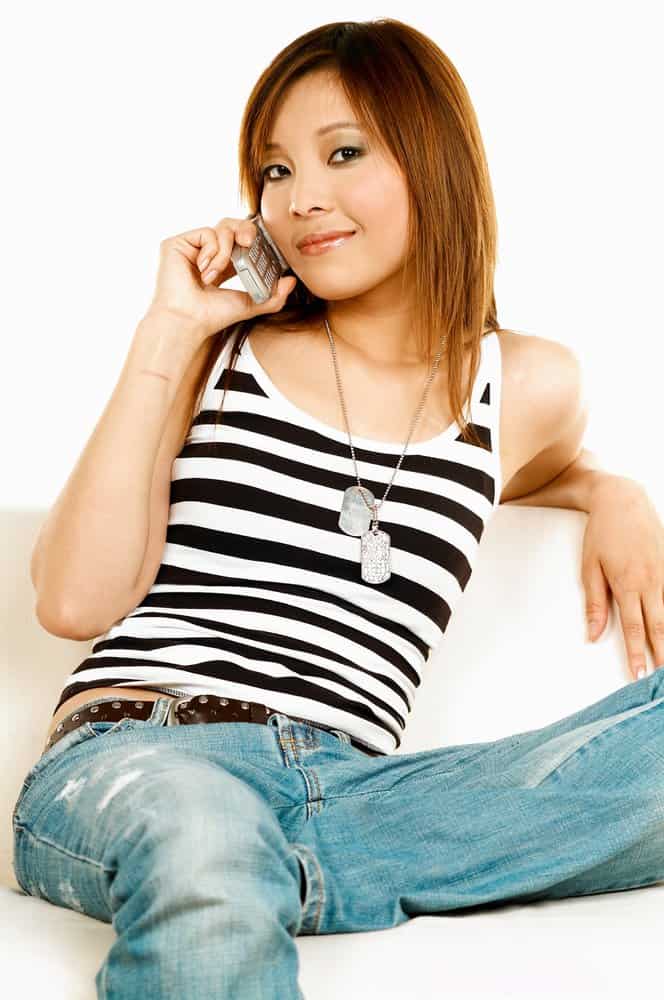 What is phone sex?
Phone sex is the art of mutual masturbation on the phone. On Talk121, you can meet new people and have naughty conversations about fantasies and sexual desires whenever the moment strikes as the platform is always open 24/7 and hosts hundreds of individuals worldwide!
Phone sex includes a variety of things during conversations. You can speak up about your favorite sexual positions, ideal sexual fantasies, explore sexual role-playing scenarios, learn more about kinks, and fetishes, and more.
You can have fun while being comfy at home and learn how to talk dirty and be flirty. You are always welcome to cum while you chat too.
Why is talking about sex beneficial?
There are many benefits from talking about sex and what arouses you. You may be new to phone sex and chatting it up with hot strangers, but you'll soon get accustomed to talking it up about your sexual desires and fantasies.
The benefits of phone sex are an increase of self-awareness, boost of confidence, intimate moments with friendly strangers, more understanding of what you want and more opportunity to get what you want.
Below you can learn more about each of these benefits. There will also be benefits that are less common and will likely stem from whatever is going on during your day-to-day such as discovering new fetishes or kinks or learning more about why you feel the way you do.
Phone sex is a safe way to explore sexuality with friendly individuals from around the world. Learn how to talk about what may make you uncomfortable and find a new intimacy with yourself and others.
Self-awareness
Talking and listening to others about their arousal and what turns you on will no doubt bring a new level of self-awareness to your life. You will learn more about yourself and what you like about sex by chatting it up with hot strangers.
You can try new things and experience all your sexual fantasies and desires safely over the phone. You can learn how to communicate your wants and needs and provide care through active listening, and empathy.
Confidence
One of the top benefits from speaking with others about sex is the confidence you'll gain over time. Speaking about sex may feel daunting and even scary if you've never done it before or if you have expectations on the kind of reactions you may want to have with people.
You usually don't have to worry because the people you'll connect with on the phone chat platform are friendly, horny, and excited to connect with someone like you.
The community of individuals who are active on the free chatlines are dynamic, interesting, and fun! Every time you have a good experience on the adult chat, your confidence will get a little boost.
Intimacy with others
Another great benefits of phone sex and chatting it up sexually with others is the lighthearted intimacy you'll experience often with varied phone partners.
You never know what someone is going to bring up during a phone sex call and that's a part of the excitement. You can share and hear others and connect on ways that make sense in the moment.
Intimacy with hot strangers can help you feel more connected with the world at large and provide other positive emotions.
Get more of what you want
You can get more of what you enjoy, want, and gets you aroused by chatting about sex with others. When someone knows what you're hoping to experience, you are more likely to experience that because when someone doesn't know what you like or what you are hoping to express, they can be guessing in the dark.
So, go ahead and bring things to light and use your voice to express your ideas about fantasies, sex, and what you enjoy about relating in this way.
Three ways to have hot phone sex experiences
Three ways to make sure your phone sex is hot is to be open-minded, engage in active listening, and enjoy your time on the dirty phone sex line. The more carefree you behave, the likelier the opportunity to have fun and enjoy in-the moment conversations about sex will occur.
Below you can read more about the three ways to engage in hot phone sex experiences.
Be open-minded
Being open-minded when people talk about the things that turn them on the chatlines is very important as it can allow you to explore new ways of connecting sexually.
You never know what someone is interested in sexually until they reveal it to you. If a phone pal opens in this way, do your best to remain open to whatever feels right for both of you.
Small acts of kindness go a long way on the Talk121 platform. You can learn more about sexual desires and align with people who have similarities with you 24/7.
Active listening
Active listening to others you meet on the chatlines will ensure you build connection and help to have your phone friends feel cared for and comfortable to open up with you.
Active listening is not just waiting for your turn to speak but to be fully engaged with the conversations you're a part of. It will allow you to have great in the moment experiences with hot strangers.
By being an active listener, you increase the chances of having fun phone sex experiences because you're more engaged with what's going on in dirty sex conversations.
Have fun
Let loose and have fun. Be yourself and talk with sexy people about sexy things. There's something truly unique about phone sex. You get to experience a range of safe and creative sexual experiences with people worldwide and learn more about what you want.
Try new things, share, and listen and cum hard with amazing people.