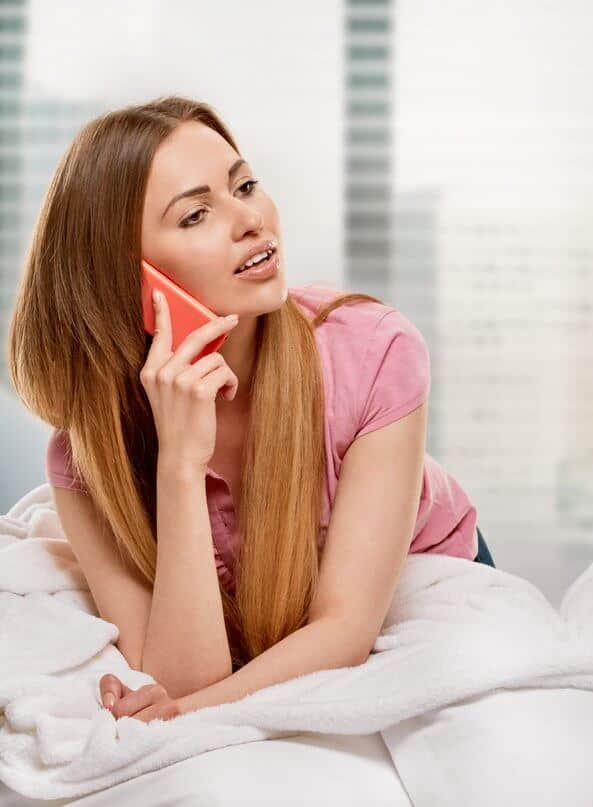 In the past, when we did not have such an active online world, phone sex and dirty magazines were all we had for our masturbation material. As the internet keeps advancing there are more and more different ways for us to achieve an orgasm. However, watching a video or playing a sex game is not as fun, interactive, and addictive as enjoying the privileges of hot phone sex.
Why? Well, phone sex means that you get to talk to a gorgeous woman while having some dirty fun. She can tell you lots of naughty things, from what she is wearing, to what she wants you to do to yourself or her. You can come up with different naughty scenarios, engage in role-play, and get very creative in general.
Have You had Phone Sex Before?
Is this your first rodeo with phone sex? If so, you are more than welcome to explore all the beautiful women who are presented on Talk121. These girls are not only gorgeous, but they are also exceptionally skilled when it comes to dirty talking.
They are also open to all kinds of experiences, so as long as you are straightforward with them, they are going to fulfill your naughtiest fantasies. You can also choose to engage in sexting if you prefer to start slow! It all comes down to each individual's personal preference, and you have the chance to pick whether you want an intimate phone call or fun and arousing party chat with bombshells all across the USA.
The Dos Of Phone Sex:
1. Keep An Open Mind!
One of the most important things when talking about phone sex is that you should keep an open mind. Phone sex allows you to be as creative as you want to be, and those who keep an open mind to new experiences are the ones who get to enjoy lots of passionate and orgasmic talks!
2. Be Enthusiastic!
Even though you will get to talk to a stranger over the phone, you should be enthusiastic about it. Reading the energy over the phone is quite simple, and if the girl sees that you are into it, she will go above and beyond to make you feel good!
3. Saying Thank You
Of course, this is not necessary but good etiquette. If you enjoyed the phone call with one of the gorgeous women, you should thank them after the call. If you frequently schedule a call with the same girl, she is bound to remember you!
4. Use Your Imagination!
As it was mentioned, sex calls are all about being creative. You can come up with all kinds of scenarios and have lots of dirty fun. Take your time and explain to the girl what kind of a scenario makes you feel good, and she is bound to do whatever she can to make your fantasies come to life.
The DON'Ts Of Phone Sex:
1. Take What You Pay For
A lot of the time, customers tend to get off the phone too fast. However, you will get all the minutes that you paid for, the and girls on Talk121 will happily make sure that you do not waste a single minute. So, pay attention to how much you have been talking, and enjoy all the minutes you paid for.
2. Don't Get Too Serious
Phone sex is all about having fun and getting creative. So, you should not get too serious when you get down to business! Talk121 has lots of girls of all shapes and sizes, and they are here to have some fun. Thus, you should try and have some fun too, throw that seriousness out of the window.
3. What Makes You Uncomfortable?
The beauty of sex calls is the fact that you do not have to do anything that could make you uncomfortable. If there is something that you are not enjoying, you are free to be as open as you'd want. Tell the girl what you are hoping for, and what are your personal do's and don'ts! We are all different.
4. You Don't Have To Use A Prop
Whether you want to use a toy to enhance your experience or you would prefer to be all-natural, is complexly up to you! If you have props that would make you feel better, you are more than welcome to utilize them, but you do not have to!
Get Creative And Kinky!
The internet is filled with some of the most beautiful women out there, and they all enjoy getting down and dirty. If you are not that comfortable with phone sex, you can always start slow. On Talk121, you can choose the setting option instead.
However, those who understand the beauty of phone sex are going to love talking to all the beauties they find on Talk121. You get to choose girls who perfectly suit your taste, and as long as you follow the basic do's and don'ts of phone sex calls, you are going to have lots and lots of naughty fun.
We all get nervous when it is our first time, but with the gorgeous girls at your service, they will make sure that you feel relax and happy during your sex phone call. If you have anything specific you are into, or you are hoping for some naughty level of role play, you are more than welcome to discuss that before the actual phone call starts! You can also discuss your likes and dislikes during sexting.
At the end of the day, the girls are here to make you feel good, and your pleasures are the most important. But, do not be fooled, because the girls you talk to over the phone enjoy the experience of phone sex as much as you do! It is completely fine to ask them what they are into, and whether they are having a fun time as well. At the end of the day, your pleasures are the most important and the beauties at Talk121 will make sure that you achieve the hottest of orgasms.