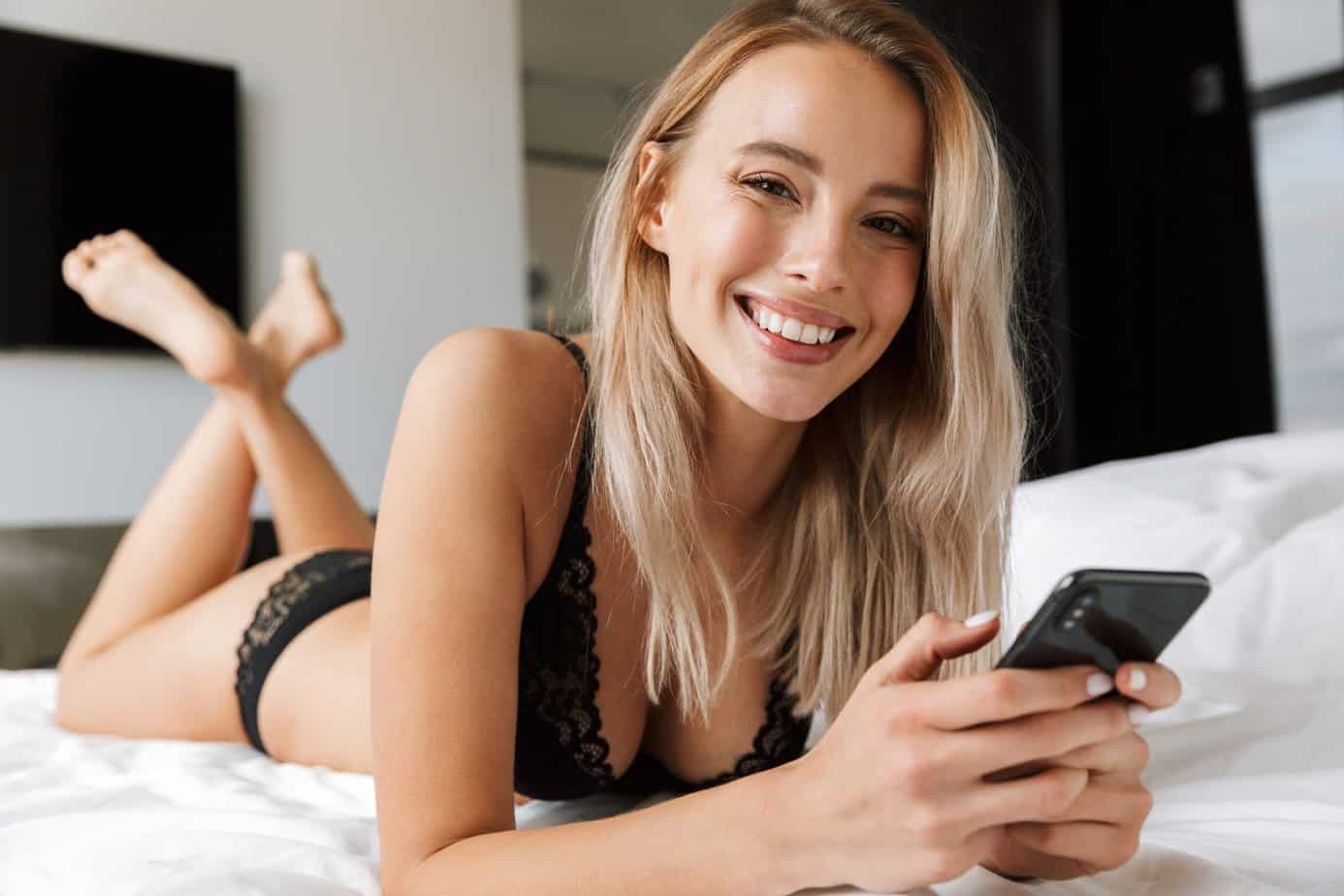 An intense orgasm on the phone?!
Yes, that can happen for you! You may find it awkward to speak about sex and touch yourself with hot strangers on the Talk121 but it's the best way to get rid of stress. While many people view the holiday season as filled with joy and fun, it is also a time where stress can burden us.
Whatever state of mind you're in, cumming releases feel good chemicals that tackles stress. An intense orgasm on the phone chat platform can be different for you than for other people. Perhaps the fact that you're speaking and listening in conversation about things that turn you on is enough to make you cum hard! Or maybe you can try something new and find yourself in a state of bliss unlike when you are masturbating solo.
What is the Talk121 platform?
Talk121 is a phone chat platform that connects people in conversations. Strangers worldwide are active on the chatlines and speaking about things that arouse them. In fact, you can pick up your mobile phone right now and start chatting it up with a hot and horny single. You can even touch yourself while hearing sexy women getting off or ask phone friends open-ended questions about what their favorite sexual positions or what they want to do to you.
It's hot and in the moment and always lighthearted! Talk121 is open 24/7 for your convenience so feel free to dial into the platform when it works best for you. You can meet hot and horny strangers who reside near you as well as live in other countries. That makes things interesting!
There are no wrong ways to have phone sex so, be sure to do what feels right in the moment. Every conversation will also be as varied as the people you talk to because even if you bring up the same subjects, what others will say and how you will respond will always feel fresh and new.
Phone sex is a great way to learn about yourself and others and discover what you truly like about sex.
The holidays may stress you out
Everyone has a different experience with the holiday season. In perfect family homes, you may have experienced good food, beautiful gifts, and family time but not everyone has those benefits.
If you have a negative association to the holidays, nowhere to go, or nothing to do depression may occur. Luckily, the solution is at your fingertips. You may be surprised at how much phone sex and orgasms can help with depression or anxiety. You can let everything else go and focus on the conversations you engage in.
There's nothing wrong with a little bit of play to lighten your mood, keep you going, and or reduce stress! Stop focusing on the negative and simply live for pleasure and you'll soon be focused on other people and things that will get you out of your holiday funk.
Cumming with strangers is safe
You never have to worry about STDs or unwanted emotional attachment on the Talk121 platform. You are completely safe to explore your sexuality with other friendly horny people who are often like-minded.
Feel free to speak about anything that turns you on and not have it ever used against you. Sometimes in relationships people get petty and you can keep it simple on the chatlines by engaging in light-hearted affairs. You likely won't speak with the same person more than once and that's a part of the fun.
Anonymous phone sex with hot strangers will keep you on your toes, continue the excitement, and help you understand yourself better. Cumming with strangers on Talk121 is safe because there are no in-person interactions, and they won't be able to contact you after the call is over. You also have the power to move onto another call if the conversations go dry, weird, or you're just not feeling it.
Mutual masturbation is better than solo play
Masturbation teaches yourself what you like about touch, where you like to be touched, how much pressure, what kinds of motions turn you on and it's important to know what you like! Mutual masturbation gives you the best of masturbation with added benefits.
You can include others in your self-pleasure. When you are touching yourself, others are also touching themselves and you can speak about things that keep you aroused! It's one of the most unique experiences because you can find out what keeps you turned on and share with others!
Masturbation can get boring after a while. You may not be ready for a sexual relationship, but mutual masturbation allows you to experience pleasure with others in a way that is safe.
                        Share your fantasies
Sharing your fantasies can be a release in itself for several reasons. Perhaps you never expressed yourself when it comes to your sexual imagination. Now is the time to tap into your creative side and bring your thoughts to life with others.
You can also learn more about what other people find hot. This could open the door to what you explore in the future. You can remain in the moment and allow whatever is happening outside of the conversation fade away.
Sharing your fantasies allows you to have an intimate session with a stranger and because you allow yourself to be vulnerable you will likely cum hard!
                        Experience sexy role-play
Another way to have fun on the phone chat platform is to experience a hot role-playing scenario. From time to time, we all wonder what it's like to be someone else. Role-playing allows you to pretend and see what it's like to be in a character's shoes.
You can do something like a cop and a victim or a doctor and a patient, but you also could do something outside of the box like an alien and a human or a talking squid and a dolphin. Whatever turns you on, speak up about it and find your voice!