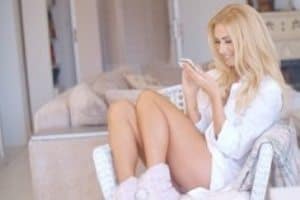 If you're using the Talk121 online chat, which is a great option for people who don't like to talk on the phone, you might get into a steamy sexting conversation with someone. If you find yourself in this position, it's easy to take hold and keep it all in the gutter with these simple tips.
1. Pics aren't neccesary
You don't need to send a pic to get a potential match interested. In fact, leaving things up to mystery sometimes makes sexting even more hot. Instead, describe things verbally. Don't show what you're wearing, but describe every single scintillating detail of your skin tight t-shirt that shows off all of your bulging muscles or your cute panties that hug your booty perfectly.
2. Keep emoji to a minimum
Emoji aren't sexy – unless it's the eggplant! Too many winky faces might confuse your potential match. After all, we usually wink when we're joking, and you're not joking about your sexts, are you? If you're serious about sexting, use the winkies sparingly.
3. Role play can be fun!
Even though you're not face to face with your date, you can still engage in some sexting role play. A naughty nurse, a cruel college professor or a dashing fireman could be on order to keep the conversation on fire!
4. Keep the prize in sight
When you're sexting, what's your goal? Is it to flirt and build interest until the time is right for a date so you can get to know each other? Is it to get someone who wants to come over tonight and have a good time? Keep that in mind when you're thinking of what to say. If you want someone who is more ready to play than not, turn up the heat!
Now if you find yourself in a sexy texting situation, you'll know just what to do!