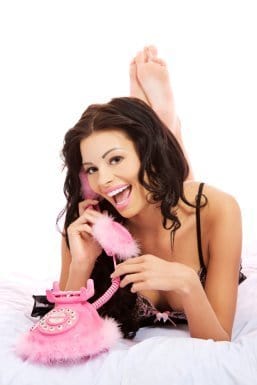 Anonymous phone sex is the art of using your imagination with other people on the phone and experiencing a sexual connection. Mutual masturbation is so much better with a hot stranger on the phone than solo play. You can chat about your desires, co-create unique fantasies, try a role-playing scenario or two, and more! There are unlimited ways to express yourself on the adult phone talk line and most of the time you will likely meet amazing people who enrich you in dirty banter and sexy imaginative play. However, there may be a few moments where you meet someone on the phone chat platform who isn't a good fit for what you're looking to explore. Should this be the case, there's no need to fret, as all you need to do is say goodbye and end the call. There are hundreds of people available to get to know on the chat platform so you can easily meet someone ideal for you. Additionally, the chatlines are open 24/7 for your convenience. 
What are the other reasons you should move on to a new phone sex call? Being that what takes place on this chat platform is anonymous phone sex, anybody that's asking for deeply personal information like address, or phone number should raise your red flag and even end up in a hang-up. There's no reason for people to ask you for your details and you should never give out your personal information on the telephone chatline. 
Another reason you should end a call and move on to someone new is if you have to repeat your boundaries, or you feel your wishes are not being respected. There's no need to stay on a call where someone is purposely and repeatedly making you uncomfortable. 
Ultimately, you likely don't have to worry about the strangers you meet on the phone chat platform but it's good to be aware of the signs to cease communication.