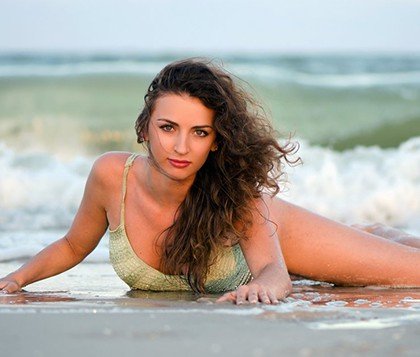 Summertime is made for new love, romance, adventure, and trying new things! There is a certain freedom under the hot summer sun that lowers inhibitions and creates an excitement for the days to come. This excitement and joy for living also raises libido making sex, and sexual experiences, even better than other times of the year!
As soon as the first heat wave rolls in, there is suddenly less clothing on all the most attractive bodies, and suntan oil that needs to be applied in those hard-to-reach areas. The amusement park that is a long-legged, silk-haired beauty can be seen from a mile away, and it's hard to resist those perfect curves. Experiencing these curves on the phone is even better, because these rides are as curvy as you can handle, and it's a private ride, made just for you!
The beautifully tanned bodies aren't just made for fun in the bedroom, either! Summer heat means pool fun, beach fun, or even a little action in the lake or ocean, depending on where you want to be this week! Anywhere in the sun means a warm, sun-kissed beauty with soft skin and eyes that only want to look at you. The best part is that you don't have to worry about sand getting stuck in all the wrong places!
Time constraints don't exist here! School is out for the summer semester, and college schoolgirls want to play! With Talk121, they are on your schedule, and they can't wait to make summer plans to meet by the bonfire for some smores and cuddling, or on the deck while you watch fireflies and let one kiss lead to another!
Don't want to stay home for summer vacation? Now is the perfect time for traveling to tropical places with exotic names and umbrella drinks with the partner of your choosing! Close your eyes, sit back, and imagine yourself in a hammock on the beach in another country with a cold drink in one hand, and a hot and sexy body in the other hand while you make out and have your way with them under the shade of a palm tree. Let the mood take you wherever you want, with deep conversations during a quiet sunset, and sensual passion that brings the excitement and butterflies of new romance.
If tone thing leads to another and you get physical, that's added fun, too! When you get hot and sweaty, you can cool off in the water! The beach or pool is always nearby, and nothing can beat a sexy body that's dripping wet and walking towards you with a satisfied little smile on their face! It's almost sexy enough for a round two, if you can get ready in time.
Summer flings are fun and exciting without the extended commitment. Phone chat summer flings are even better, because you don't have to leave the house to find the perfect vacation partner to relax in the sunshine with, and they won't get jealous if you have a dozen or more partners! You don't even have to worry about using protection, unless you want to!
Let this summer show you a new kind of adventure with the beautiful, sexy model of your choice. Mix it up and have as many flings as your schedule will allow and have fun with it! Summer is made for sunshine, adventure, and making new and exciting memories!